by Maria K Todd MHA PhD

In the USA, according to the census data from 2016, rural areas cover 97 percent of the nation's land area, home to 19.3 percent of the population (about 60 million people). By this, I refer to the official definitions developed by the Census Bureau which identifies two types of urban areas:
Urbanized Areas (UAs) of 50,000 or more people;
Urban Clusters (UCs) of at least 2,500 and less than 50,000 people.
The Census does not actually define "rural." "Rural" encompasses all population, housing, and territory not included within an urban area. Whatever is not urban is considered rural. The Census recognizes that "densely settled communities outside the boundaries of large incorporated municipalities were just as "urban" as the densely settled population inside those boundaries." Their definition does not follow city or county boundaries, and so it is sometimes difficult to determine whether a particular area is considered urban or rural.
It is in these rural areas that I am witnessing the most rapid growth in medical travel program development in the USA.
Understanding American Healthcare Consumers
Figure 1. Physician distribution in non-metropolitan areas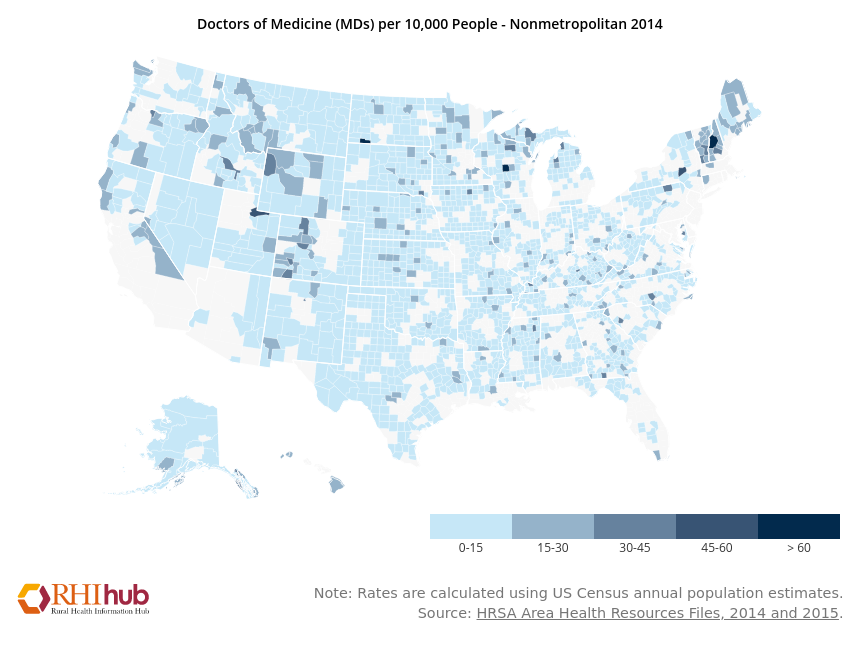 Rural areas and urban areas both suffer from physician and dentist shortages across primary care and many specialties. People in need of certain specialty care are no strangers to driving longer distances than their urban and suburban counterparts to access specialty healthcare. However, it is rare, if unlikely, that they fly someplace to access healthcare.
Many rural-dwelling USA citizens have never flown in a commercial jetliner and aren't of the ilk to fly outside of the USA to seek care in a foreign country.
They don't have passports because they don't need them because they don't intend to travel internationally- and never have. They may also have to drive more than an hour or two just to reach an airport that offers more than regional service. This is why I shake my head in disbelief at the notion of dentists soliciting referrals from me from India, Turkey, or even Mexico for American patients. A rare case on occasion that is an outlier to the norm, does not constitute an addressable market.
Medical tourism suppliers everywhere should invest their efforts and marketing budget on an ideal customer in an addressable market for something they specialize in and hold competitive advantage. Remember the old question are you fishing where the fish are? It rings true in medical tourism marketing. A rare breed of fish may swim into your net,
Medical travel or Medical tourism?
There are places throughout the USA that offer a unique visitor experience ("tourism") where a healthcare consumer might enjoy an activity available locally- but that requires a near perfect storm to be realized:
the health tourism or medical travel infrastructure must be created and developed into a designed product that the consumer "needs", offered at the destination. This is far more than some
hospitals or clinics, some doctors and nurses and hotels or alternative accommodations.
the consumer must choose the destination from all others they could consider
the touristic activity must be appealing or otherwise interesting to the consumer
the featured or paired activities must be within the limits and abilities of an ill or injured person, prior to or recuperating from a medical procedure
the hotels or alternative accommodations must be appropriately designed and furnished for the medical travel patient in alignment with the procedure or condition
group health benefit plans paid by third party payers (health insurers and employers) loathe the term "tourism" because the activity of tourism is viewed as fraught with additional risk of injury or complications that could have been prevented in the absence of the touristic activity. They do now and have always paid for medical travel when the need arose due to shortages of providers and specialty care.
So when addressing the target market of health plans and self-funded employers, the terminology you must use begins with the proper choice of words to describe your "product" if you expect them to be interested to know more and possibly purchase what you offer.  In addition to the appropriate terminology to spark interest, your product must be designed to satisfy a need they have. Without appropriate research into the services these insurers and employers have purchased from you in the past, you run the risk of offering irrelevant services for their "covered lives".
The missing data can hurt you
This is the point at which many American healthcare organizations shot themselves in the foot long ago. They allowed some line manager without any vision or strategy to decide not to fill in the "employer" data field in the patient registration and demographics. Now that they need it, they don't have it and cannot purchase it. Without this data, it is damn near impossible to trend what an employer will find relevant to their healthcare needs. An alternative could be to make generalizations about the Standard Industrial Classifications (SICs) employed by the employer and insight into their usual work activities, lifestyles, age, gender, etc., but it isn't as good as primary source data from the files of a healthcare organization already used by the population being analyzed.
Predictive modeling data is another option, but only if a self-funded employer has such a system implemented and can get to their data. Often, if they work with a TPA or ASO, they are surprised to learn that they are not able to receive it on request. I've run into this more often when the employer leases administrative services and a discounted provider network and discounted rates from an ASO, such as Blue Cross or Blue Shield, Aetna, Cigna, or UnitedHealthcare. why? Because access to predictive modeling data wasn't in the contract they negotiated with the ASO. Another option is past data in the form of a retrospective analysis or "claims dump". This is a repository of claims adjudication detail that is provider or condition or procedure or employer specific containing at least 6 months of all claims adjudication detail. Having worked as a provider relations manager at an HMO and with several integrated health delivery systems (IPAs, PHOs, MSOs, ACOs, etc.) I have used these claims dumps to focus on claims-related payment and utilization issues and concerns, and to offer solutions to clients and participating network providers. This is where my managed care background and prowess distinguishes me from my competitors in terms of developing a medical travel product. There are many ways to use this sort of data in the absence of owned primary source data, but only if the self-funded employer can request and receive the de-identified claims dump data. Your expert can guide you as to what to ask for and how to push to get what you need.
A self-funded employer's plan administrator with a stable population over the course of many years can also tell a medical travel provider where their "hot spots" are in terms of high-cost procedures and incidence frequency. These procedures and services in the dark red quadrant (below) are ripe for discussions about bundled case rates and medical travel because these are "expected" claims. The next most interesting quadrant is the lighter red where lasered claims are known to exist. Lasered claims are those that pose additional risk to the employer. In the lasered claim scenario, the stop loss carrier alters the coverage for individual stop loss for certain claimant(s). For instance, if the client's individual stop loss ("ISL") level is $25,000, an individual with a serious ongoing claim may have their own ISL of $150,000. The difference between the $25,000 and $150,000 may or may not accumulate to the employer's aggregate claim liability, which means they will likely reach or exceed claim liability. In these lasered cases, the employer is at risk for all claims expense and none of the excess loss beyond expected claims amounts and utilization is picked up by the stop loss carrier. If you can save them a substantial amount inclusive of the travel costs, or offer them better care and quality with a medical travel product, they are all ears!
How substantial is substantial enough? $10-15,000 per case (inclusive of the travel costs and accommodation/subsistence costs while at the destination) from that which they normally pay for local care where there is no travel involved.
Figure 2. Medical travel case / procedure targeting for employers who offer self funded healthcare benefit plans
An experienced analyst familiar with medical tourism strategy and product development will have faced this in the past and will know how to arrive at a "best guesstimate" in the absence of primary source data supplied by the hospitals or clinics in question. The problem is that there aren't many such qualified individuals and those who have those qualifications are extremely busy these days. The circle of qualified individuals to help with this sort of strategic planning is very small across the USA.
Sometimes, local towns and cities decide they will develop a medical tourism product but have no clue or bad guesses as to how to go about designing a medical travel product. They believe that because they have accredited hospitals, some surgeons and dentists, an airport and hotels, and if there is significant economic impact coming from tourism, that medical travel and health tourism is a "no brainer" and easy to develop. I can tell you unequivocally that's just not true.
Another surprise one might encounter at some destinations that might otherwise be able to develop a medical travel program, because the physician supply is limited, the doctors' appointment calendars are already full and they don't want to work more or longer hours to accommodate medical travel cases. I found this to be the case with hospital-employed physicians – especially those who were closer to retirement age. And in rural and urban settings alike, the number of physicians selling their practice to a hospital is increasing day-by-day. Without knowing these volumes and physician willingness and readiness, a destination's economic development council cannot simply declare that "medical tourism development will suddenly become a new initiative" for the destination. Well they can, but nothing will come of it.
The impact of medical travel to Critical Access Hospitals across the USA
A Critical Access Hospital ("CAH") is one that has 25 or fewer acute inpatient beds, is located at least 35 miles from another hospital, maintains an annual average length of stay ("LOS") of 96 hours or less and often operates on about $15m in revenues. As of April 16, 2018, there are 1,346 CAHs located throughout the United States. A drive-by case lost to a medical travel destination hospital may or may not impact the CAH.
Why? Because in many cases, the CAH may not be equipped to handle the procedure for local residents anyway. Therefore, there is no real impact to the CAH caused by the drive-by. The 96 hour LOS is another issue that warrants careful consideration.
Where are the Critical Access Hospitals located? See Figure 3 below for a national distribution of Critical Access Hospitals.
Figure 3. Critical Access Hospitals in the USA
In the image above, look closely at where the blue dots are missing; not only where they are present. If one draws a 200 mile radius around a destination, the primary addressable target market will be within that circle. Yes, you may catch some cases from further afar, but the focus of your strategy and target market lies within the circle, within a four-hour drive by interstate highway or rural limited access roadways that can average 50 mph (80 kph) for the duration of the 4-5 hour journey by car. When roads cannot safely manage 50 mph (mountain roads, roads through small towns, etc.) the circle and radius will be smaller. Is there sufficient addressable market to make a medical travel program feasible at your destination? Are there enough specialist physicians or dentists?
Take a look at blue dots in Idaho, Montana, Utah and Colorado. Some of these dots are placed in locations that are at very high altitudes. So while the hospitals may perform cases on local residents acclimated to the altitude, would a "flat lander" with pulmonary or cardiac conditions be a candidate to travel to those places to undergo a medical travel procedure? Probably not. Just because the hospital exists near some hotels, and just because doctors are willing and able to perform the procedure does not qualify or justify the expense and effort to design a medical travel program and try to sell it to individual consumers and self-insured employers.
The typical leading procedure types for elective medical travel programs include cardiac and orthopedic procedures, weight loss surgeries, cancer care, urology, gynecological, stem cell transplants, and cosmetic surgeries. Another category is that of comprehensive checkups for wellness. And a third category is confirmatory consultations. Each of these procedure groupings have very different criteria for ideal patient selection, and different requirements for appropriate hotel or alternative accommodation.
On the other hand, with the right case mix of procedures, a CAH may just make its targeted revenue numbers for the year off of new business from medical travel cases. But do they have the cash and the time and excess inpatient and outpatient and physician capacity to handle more admissions from medical travel cases? Most never find out because they refuse or are unable to invest in the preliminary analysis and product development.
Medical Travel and Ambulatory Surgery Centers ("ASCs")
While a minor outpatient case within the above groupings with a short stay may do well at the CAH, the case may also be carried out at an ambulatory surgery center ("ASC"). There are currently more than 9000 ASCs that compete for patients in the USA. The combination of a capable ASC with competitive bundled pricing, a home health care service to check on the patient at a nearby hotel, a private duty nurse to remain in the adjoining hotel room for one or two nights, if necessary, and an appropriate hotel or alternative accommodation for the type of procedure being performed can often compete with a CAH for a number of medical travel cases.
What's different about medical travel is that the length of stay at the destination is longer than the LOS for local residents. This is because the patient doesn't simply return home within the community. The surgeon may not release the post-operative patient to travel by car or by another means of transport as soon as they would for a local patient. If the patient leaves prematurely against medical advice, outcomes can suffer and risk of complications escalates accordingly. If they purchased complications insurance and then leave against medical advice, will the policy they purchased cover a related loss? I've never posed that question to Ben and Tracy Simons of Custom Assurance, the leading seller of medical travel complications insurance coverage. Perhaps they will answer in comments below.
Cost comparisons with international medical travel destinations are often irrelevant
I find myself shaking my head in disbelief when I receive appeals from medical tourism doctors and dentists to refer patients to destinations outside the USA for treatments abroad. Don't they realize that while the price of the procedure may be lower than the USA by some amount, the total cost of the episode of care and travel is often far more costly than care received in the patient's home town or within a 4-5 hour drive?
Often from the USA to a foreign destination, a business class international flight will range from USD $8000-12,000 if the ticket is booked fewer than 57 days in advance. And that cost is not for one person. Most medical travel episodes of care involve two people traveling. So a traveler would incur from $16,000 to $24,000 in airfare costs straightaway. Then there's the cost and time required to obtain visas and passports and any required immunizations. Immunizations to travel to Africa cost me more than USD $700 in 2012. Visa and passport fees to India cost me over USD $400 for expedited processing. A US passport application costs $110 and an additional $60 for expedited processing. Anyone good with arithmetic can quickly see that a surgery abroad priced at 50% of the local cost represents no savings if the patient must travel by air in business class seats with a companion and pay hotel costs for two persons and meals and incidentals while at the destination, along with passport, visa and immunizations and complications insurance premiums that may be necessary. Self-insured employers and insurers are good at math. That's why domestic medical travel by car is far more appealing to them at a destination where good quality care and outcomes are accessible.
The hotel or alternative accommodation that may be situated near to the clinic or hospital may be inexpensive, but also inappropriate or inadequate to meet the patients' needs. Different cases require different furnishings, design, layout, electricity, use of space, and catering services. Most hotels that appropriately accommodate medical travelers are priced in the range of $135-$225 per night. That begins to add up when the length of stay is 10-14 days. (USD $1350 – $2250, plus as much as 16-18% taxes).
Air travel may necessitate a seat other than an economy class of service. The destination may be accessed by limited services and require a number of connecting flights through large or small regional airports. This raises the complexity of the journey and the cost, and the medical risk and navigation risk. Connecting flights may require an overnight stay at a connecting city, and the connecting city hotel room must be appropriate to meet the needs of the patient. Often the travel and length of stay at the destination add considerable costs that can negate any medical procedure price savings that may be realized.
Does the domestic medical travel supplier need to be a popular and recognizable established healthcare "brand"?
Well… yes… but (which essentially translates to "no")
While brands such as MD Anderson or Cleveland Clinic or Johns Hopkins are often mentioned in the media as popular medical travel suppliers and Centers of Excellence substantiated by volume performance and outcomes, a medical travel program can exist outside those brands by smaller regional competitors. Branded healthcare suppliers tend to charge more for the same services offered elsewhere. Many of them rank on "top hospitals" lists from US News and World Report, Thomson Reuters, SK&A and Healthgrades.
Six percent of US hospitals are Academic Medical Centers (AMCs") (e.g., UCLA, Harvard, University of Miami, Baylor, NYU, Temple University, Rush University, Carolinas Medical Center, etc.). The provide 68% of America's surgical transplant procedures, 78% of all burn care, and 21 % of cardiac surgery services, often for the most seriously ill heart patients.
AMCs are often affiliated with a single medical school, although the school may have affiliations with multiple health systems. In some cases, hospitals are run by the school and/or partially staffed by school faculty. As branded health suppliers in their own right, they also tend to cost more than local and regional hospitals and medical centers. Training young physicians early in their career costs a lot because they learn by trial and error and order tests and services that must be billed for and paid by someone. AMCs are also listed frequently on these same "top hospital" lists.
So is it possible for a regional medical center to compete with these branded giants of American healthcare? Of course! But not on every point-by-point comparison.
This is where branding is most important. The first rule of branding is to know one's customer. What does the customer and the payer want and need? Just because the main medical travel service lines include cardiac and orthopedic procedures, weight loss surgeries, cancer care, urology, gynecological, stem cell transplants, and cosmetic surgeries doesn't mean that those are the only procedures to include in your strategy. An unbiased analysis of what the supplier does best, and of those, which cases can be priced competitively while delivering excellent outcomes is required along with a critical analysis of the ideal customer. From there, we then draw the 200-mile radius circle to see if those types of "fish" are in the regional fishing "pond".
From these data, we then proceed to determine if the procedures that should be first in the medical travel pilot program can be offered to the public and to self-insured employers and commercial insurers at a price for an episode of care, complete with accommodation and subsistence for the patient and travel companion that such an offer will be of interest to an ideal customer. In many cases, that means different "products" to be pitched to different buyer personas. Is rapid access, time savings or convenience a factor for a buyer? Is the issue cost containment? Is the issue lack of local healthcare quality for complex cases? Or missing needed specialties? Is the issue patient anonymity? Is the issue that the buyer wants a branded supplier for some reason?
If the ideal target patient is a self-pay consumer, or a patient with such a high deductible and catastrophic coverage insurance, can they afford to travel and stay at the destination to travel for care? Will their insurance cover them if they travel? In many cases, the answer is yes. Especially if the health plan is self-funded by their employer. But in any event, if they need help with their copayment or high-deductible health plan, Jim can help many folks who are turned away by banks and other lenders. And the interest rates are very competitive and a lower than average FICO score will still be eligible for consideration.
My Denver colleague Jim Saltz, of Carepoint Financial (720) 291-4493) can help you help prospective American patients seeking domestic medical travel services pay for what they want to buy if they need financial assistance or a payment plan. The hospital or ASC should not also be the credit granting institution. (N.B. Providers outside the USA, this program is for domestic suppliers and destinations only.)
But back to branding for a moment…
If you need to analyze the brand you have and its message and offers for relevance to a medical tourism target market, your project may benefit from some expert assistance. Deciding what to offer to whom, how to say what needs to be said, and pricing of bundled cases, and how to build the appropriate program infrastructure for your medical travel program pilot, that's my specialty.
Introducing your medical travel program to employers and insurers
I also help my clients develop strategies and organize talking points to reach out to employers, insurers, farm bureau programs, manufacturers, and other potential customers for their program. Once they have expressed interest, you should consider inviting them for a site visit and conduct a mock destination experience for them with a site tour, hotel site inspections, etc.
If you are hesitant about outreach, consider this fact that most hospitals haven't connected to the issues:
Self-funded employers can and do go outside their hired rental network provided by their TPA or ASO or PPO to find healthcare providers who meet their needs. Under the regulations in the Employee Retirement and Income Security Act of 1974, each plan must have at least one plan fiduciary (a person or entity) named in the written plan.
The plan fiduciary has important responsibilities and are subject to standards of conduct because they act on behalf of participants in a health benefit or retirement plan. These responsibilities include, among others:
Acting solely in the interest of plan participants and their beneficiaries and with the exclusive purpose of providing benefits to them (not denying benefits);
Following the plan benefit documents (unless inconsistent with ERISA); and
Paying only reasonable plan expenses. (Why pay more than what is reasonable, especially if that's what someone else (TPA/ASO/Provider network) negotiated?
One way fiduciaries can demonstrate that they have carried out their responsibilities properly is by documenting the processes used to carry out their fiduciary responsibilities. This includes participating in site visits or delegating the due diligence to a qualified and competent consultant (I do this for many employers considering domestic and international medical travel), purchasing good quality healthcare (as documented in medical records and externally validated outcomes), delegating or undertaking the process of due diligence in the review of credentials and privileges of the physicians, and delegating or undertaking hospital or ASC quality and safety and accreditation or certification according to a set of standard benchmarks. So the savvy medical travel seller will have these data and talking points ready for discussion and presentation for rigorous analysis by the plan's fiduciary or plan administrator.
A fiduciary can also hire a service provider or providers to handle fiduciary functions, setting up the agreement so that the person or entity may or may not agree to assume liability for those functions selected. That's how I get hired to conduct the due diligence for some. I do the preliminary site inspections and report my findings and recommendations. The employer then conducts the site visit of the short-listed candidates and makes their own independent decision. That's because an employer is required to monitor the delegated inspector or reviewer periodically to assure that it is handling the plan's investments and network contracting prudently and in accordance with the appointment and company policies and scope of work.
I assume no liability for their decisions and my unbiased recommendations are not influenced by payments or touts by providers when working as the advocate of my client. In cases where both the client employer and the healthcare provider are both my clients, similar to how a lawyer might be retained, I obtain a mutual consent to act as the preliminary fact finder. Once I set about my assigned task, in considering prospective service providers, I provide the employer with a template that I will use that when completed, supplies them with complete and identical information about the medical travel program relevant to the services they need so that they can make a meaningful comparison.
Sometimes, in the case of some integrated health systems, the health system Management Services Organization (MSO) may be the contracted party on behalf of the hospital or ASC, the physician network, the hotels, and other infrastructure providers. If that occurs, you'll see the information to you about the services they will provide to your plan and all of the compensation they will receive. This information will assist you in understanding the services, assessing the reasonableness of the compensation (direct and indirect), and determining any conflicts of interest that may impact the service provider's performance. I know where these filings are maintained and how to use them to learn what services are on offer to employers who use Cleveland Clinic, Johns Hopkins, MD Anderson, etc., and at what prices. (Sorry, no I won't share those tricks of the trade in this article if you aren't a client under a prepaid retainer agreement.)
Why doesn't everyone want to go to those big name brand healthcare providers? Some feel that their employees and dependents will feel intimidated, or that the destination is simply too far to travel. Others have identified price advantages for good quality care and hometown service at closer, smaller, less intimidating destinations.
Make no mistake, healthcare is scary to most people. Traveling for healthcare to unfamiliar destinations, unfamiliar providers, and away from the support of family and friends is daunting. No one elects to have surgery in an unfamiliar place if there is a local alternative that satisfies their needs. Furthermore, most plan fiduciaries will tell you that of all the procedures you may sell in your offer, they may not want to buy all of them, and of the ones they do contract for, you probably won't win all the business from all the cases they experience. That's because, for one thing, to steer 100% or require 100% medical travel would create new liabilities for risks they don't currently have.
Software platform to run your medical travel program
If you need help finding a software application to manage the program, Higowell is the only software of its kind ready to be implemented on a programmatic scale, rather than using spreadsheets or clunky CRMs that were never designed to manage all the details of a medical travel program from end to end. Higowell helps you manage care planning and delivery, travel, accommodation, medical records exchange, pricing and more. While others may state that they are similar, I invite you to do a point-by-point comparison to see for yourself if Higowell has a true competitor in the marketplace. It doesn't. At least not yet. What's more, it isn't expensive to license and use. And if you are ready to launch, I can probably obtain a discount available as a courtesy to my clients.
Get in touch
If you'd like to discuss the feasibility of a medical travel program at your hospital or ASC, I'd be pleased to chat with you at a mutually convenient time. Please contact me at 800.727.4160. We begin by an initial discussion and then plan a field trip to your location to see the destination and your facility, talk with the project team and a small sampling of key physicians ready to begin, a visit to some of the hotels in the area who will partner with you, prospective group health buyers to approach and with which service lines, and a frank discussion of what I see in terms of possible strategies. That visit takes between 3-5 days at your location. If you decide to move forward, we discuss next steps, decide on a time line and begin the development of your pilot program.
View a map of the projects I've completed below
Learn more about me and what I do and my qualifications here on MariaTodd.com